How do I submit a payment in TAP without a TAP account?
From the main TAP page, go to the I WANT TO section and choose Make e-Check Payment or Make Credit Card Payment. Complete each screen and click Next. Only click the Submit button when you have completed all the steps.
Note: Convenience fees apply to credit card payments.
How do I find my bank routing and account numbers?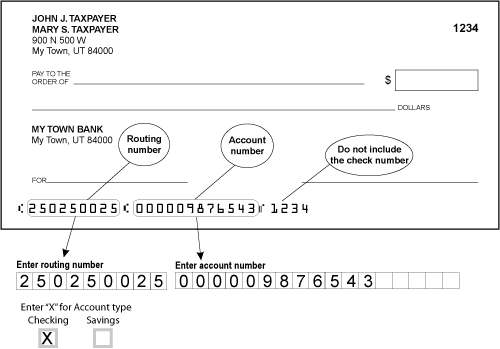 Will I get a confirmation number if I make a payment in TAP?
Yes. After you complete a payment, you will receive a confirmation number. Please record it or print your screen. Note: Only credit card payments will be emailed a receipt.
What should I do if I need to cancel a payment after I submitted it?
If your payment:
Still shows Submitted in TAP, click your payment link and Withdraw.
Has already cleared your bank account, contact Taxpayer Services at 801-297-7705.
Is scheduled, send a request to cancel the payment to TAPSupport@utah.gov.
I made an error entering my payment information? How do I correct it?
You can't change payment information after submission. You can withdraw the payment and submit a new request if the status is Submitted.
I am trying to make a payment but the media number shows an error. What should I do?
You may get an error if your media number has already been used. You can still submit your payment without a media number. Just choose No when asked if you are using a coupon to direct your payment (Step 1).
When must I make a payment for it to be timely? Is there a grace period?
You must submit your payment by midnight on the filing period due date to avoid penalties and interest. There is no grace period.
I owe taxes but can't pay in full by the due date. Can I make a payment arrangement through TAP?
Yes, you can request a payment arrangement through your TAP account. Click Request Waiver, Payment Plan, E-Reminder from your account screen and follow the instructions.
What information will my bank need to process debit payment requests?
You may need to give your bank the company identification or debit blocker number (9588805001) and our bank name (J.P. Morgan Chase). Contact your bank for help.
How long will it take for my payments to process?
Payments post within 3 business days. However, your payment shows in our system with your submission date regardless of how long the payment takes to process.
Can I use a foreign bank account to submit my payment?
We are unable to accept payments from an account outside the U.S. at this time.
Returns
I saved my return and now I can't edit or submit it. What should I do?
Open your draft submission return and click the Edit link. Make any changes if necessary and click Submit.